When:
June 6, 2020 @ 9:30 am – 12:30 pm
2020-06-06T09:30:00-05:00
2020-06-06T12:30:00-05:00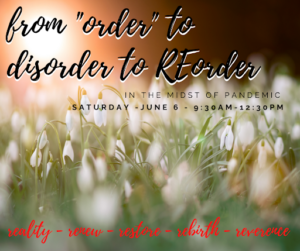 $25 Suggested Donation
A shared time of ritual, spiritual practice, meditation, and conversation. Embracing REality as it is with its grief, anxiety, fear, and anger. Cultivating REverence, gratitude, and awe. REnewing self and collective compassion. Dreaming forth possibilities for REbirth, REsurrection, & new life. Led by Facilitators Patty Forsberg, Adam Luedtke, Marvin Anderson, and Luke Healy.
As we collectively experience the disorder of the current pandemic where covid-19 has touched every aspect of life we are invited into the possibilities of love and transformation. As Richard Rohr says "Picture three boxes: order, disorder, reorder. And that if you read the great myths of the world and the great religions, that's the normal path of transformation." 
Explore, discover, uncover, cultivate, imagine, let go, and open up to REorder through sacred conversation and spiritual practice with us during this participatory retreat focusing on four modules:
Grief, Anxiety, Fear, Anger & Depression

Gratitude, Awe, Reverence, and Abundance

Compassion for Ourselves and Others

Transformation
Presenters:
Luke Healy is the co-founder of Integral Christian Network, an endeavor to help further the loving evolution of Christian consciousness and practice. He is passionate about pioneering innovation in forms of spiritual community, in gathering like-minded and like-hearted pilgrims on the spiritual journey, and making mystical experience of God accessible in individual and collective practice. He is a graduate of the Center for Action and Contemplation wisdom school. Luke Healy's website is: www.integralchristiannetwork.org.
Patty Forsberg is a spiritual director, retreat leader at Contemplate Lincoln and certified presenter of Centering Prayer and Welcoming Prayer by Contemplative Outreach. She is also a presenter for Boundless Compassion and the Enneagram. Since the start of this time of pandemic and quarantine, she has found herself participating and facilitating groups for connection, spiritual direction and spiritual practices. Her website is: www.pattyforsberg.com
Marvin Lee Anderson proudly claims his ancestral and cultural roots from his farm family in Nebraska, which has animated his groundbreaking research, writing and teaching on the practice of rural ministry—lay and ordained—in small towns and rural communities across North America. Last fall, Marvin offered a new course on the current polarization along partisan fault lines in Grand Junction, Colorado, Restoring Community in a Divided Countryside: Anger and Healing in America's Heartland. His website is: www.ruraljustified.com 
In addition to his consulting practice on ministry and community development in the Greater Toronto Area, where he lives with his family, Marvin serves as a Board member for Contemplate Lincoln. He holds a Ph.D. in Theology, and is a Fellow at the Centre for Reformation and Renaissance Centre at the University of Toronto, where he has also taught History.
Adam Luedtke is director of Contemplate Lincoln a Christian contemplative center in Lincoln, NE and adjunct professor in Psychology and Religious Studies. He is also passionate about interfaith engagement and serves as treasurer of The Faith Coalition of Lancaster County. Adam completed a PhD in psychology by researching the spiritual development of contemporary Christian mystics. Adam has also studied worship trends and spiritual participation among millennials, nones, and dones. Adam practices centering prayer daily and is a teacher of Christian contemplation and the healing and transformational aspects of the Christian spiritual life. Adam's website is: www.contemplatelincoln.org.